This brief is part of a series looking into sustainability issues in the corporate sector relevant for emerging markets investors. We give some background on community consent and related issues - such as social license to operate, indigenous rights, FPIC and land tenure - and summarize key insights from experts including Oxfam, CCSI the Responsible Mining Foundation and others. We also look at specific disclosures on community consent from EM corporates including Anglogold Ashanti, Antofagasta, Grupo Mexico, Norilsk and Petrobras.
To access the entire report readers will need to become Alliance members. Please click here to request membership information.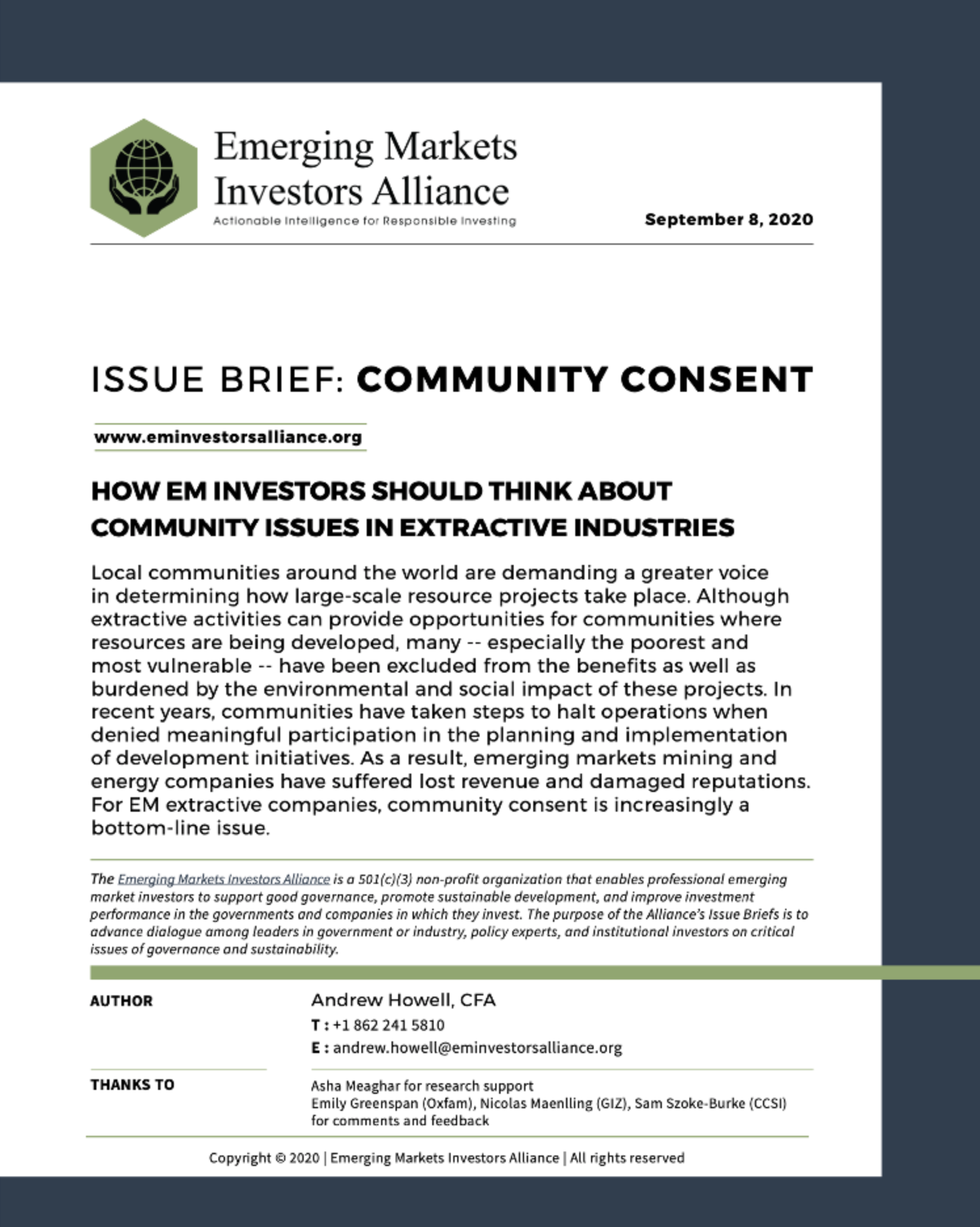 Top recommendation for companies on community consent:
Establish a vision for community engagement. Management should attempt to answer, what does the company stand for and how does it want to be perceived by the local community? What does it see as its role in promoting local development?                                                                                                                                                                                    
Make public human rights, indigenous rights and gender commitments. These serve as important signals to stakeholders about longer term corporate goals practices.                                                                                                                                                                                                                                                                                                                                                                                                                     
Ask questions and engage communities on the issues that matter to them most. This requires a good knowledge of local communities and their needs, which suggest locally-based staff empowered to ask the right questions, to ensure that any investment goes to the right destination. According to one study: "Growing levels of corporate expenditure into the community do not usually improve conditions for community members on the ground, largely because most programmes are designed without their involvement, and often do not reflect their needs and priorities."                                                                                                       
Be responsive to local grievances. Companies should have explicit policies for the receipt and consideration of community complaints and seek to respond to issues in a timely manner. Moreover these procedures should be adapted to local contexts rather than universal.                                                                                                                                                                                                                                                       
Adopt policies that promote local employment and development. Maximizing job creation can go a long way to bolstering good will on the ground.                                                                                                                                                                       
Commit to FPIC, with detailed, public implementation guidelines. FPIC is a formal process to achieve community consent. Although this was developed for managing relations with indigenous populations, it is being used more broadly as an engagement tool with all communities affected by resource extraction. Companies should commit to this best practice and be specific about their use of the framework. They should also commit to public monitoring of compliance with commitments made in benefit-sharing agreements.                                                                                                                                                                                                                                                     
Take a data-oriented and transparent approach to monitoring and evaluation. Companies should seek to quantify the performance of their community relations wherever possible. Examples include survey work to register local opinions and economic analysis to measure the progress of wellbeing in communities.                                                                                                                                                                                                                                                                                                             
Embrace new approaches. As we note below, new ways of engaging with communities more effectively are emerging, driven in part by new technologies. Companies should be eager to adopt these.
Top questions that investors should ask companies on community consent: 
"How is your team organized to manage community consent?"                                                                                                                                                                                                                                                
"What teams promote these issues, and do they include local teams with understanding of local conditions?"                                                                                                                                                                                                                                             
"Does the community function have support from upper management and the board?"                                                                                                                                 
"What are your formal commitments on human rights and community issues?"                                                                                                                                             
"Have you established community consultation and consent-seeking processes that engage communities to consider their views prior to making decisions that affect their lands and resources?"                                                                                                                                                                                                                                      
"What is your approach to including indigenous peoples, communities with customary land rights, women, youth and persons with disabilities into your planning?"                                                                                                                                                                                                                                                                                              
"Have you adopted policies committing to refrain from retaliation against activitsts or human rights defenders?"                                                                                                                                                                                                                                    
"How do you track issues with the community and map our possible solutions?"                                                                                                                                                 
"What does your grievance management system look like?"                                                                                                                                                                                      
"Can you quantify your investment into your communities, and how do you measure the impact of these investments?"                                                                                                                                                                                                                            
"Are you actively looking into new approaches and technologies?"