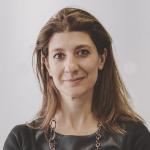 Barbara Oldani serves as Director at the Emerging Markets Investors Alliance.
Barbara formerly held several roles in fixed income sales to institutional investors specialising in structured products, high yield and emerging markets for various investment banks in London, including Salomon Brothers, Citibank and Unicredit. She was a co-founder of an FCA-regulated advisory firm where she served as CEO from 2013 to 2016. Barbara spent the last 3 years at Natwest Markets COO office, leading bank-wide regulatory and strategic projects, engaging with internal stakeholders as well as regulators, focussing on governance and transformation challenges.
Barbara is a strong advocate of working towards a positive change in the financial markets to reach sustainability goals. She holds a CFA UK Certificate in ESG Investing. Barbara earned a BSc and MSc in Economics and Social Sciences (DES) from Bocconi University in Milan.