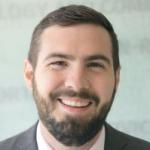 Greg Waters is an analyst at SASB focused on the Technology & Communications sector. In this
role, he works with companies, investors, and subject matter experts to develop and drive the
adoption of a market standard for reporting financially material sustainability information. Prior to
SASB, Mr. Waters spent 7 years on the research team at proxy advisor Glass Lewis, where he led a
team analyzing the corporate governance of North American companies. He holds an MBA in
Finance from NYU Stern and a BA in Economics from Bates College.