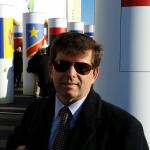 Pedro Burnier is the Program Manager for sustainable livestock production at Amigos da Terra – Amazônia Brasileira (AdT). AdT is a Brazilian NGO, founded in 1989, as the first national organization with a priority focus on the Amazon region. The activities carried out by Amigos da Terra are mainly focused on stimulating advances in monitoring deforestation caused by the beef sector. Burnier coordinates the Indirect Supplier Working Group (GTFI), a multistakeholder group that aims to advance monitoring and traceability solutions for indirect suppliers and is also a member of GTPS (brazilian roundtable of sustainable livestock) board of director.
Prior experience: Director of Novabra energia, a  Bioenergy company in Brazil (Api group) for four years. Founder and Director of large fruit production and export company for twelve years. Expertise in New Businesses startup and management in the Agribusiness and Bioenergy segments.
Pedro C. Burnier, Graduated in Agronomy, Master and Doctor degree in Business Administration.