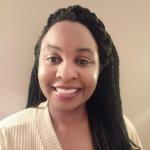 Dominique Adams is a Research Project Coordinator at the Emerging Markets Investors Alliance focused on administering content for our Research Library and ESG Certification Program. She also works as a Residential Services Manager at the University of Pennsylvania overseeing student wellness and policy implementation for one of their College Houses.
Before joining the Alliance, Dominique provided operational support in both nonprofit and higher education settings. She worked as a Program Assistant at the Horizon House, synthesizing reports to evaluate services rendered to the homeless and mentally ill in Philadelphia. Additionally, she worked as an Operational Assistant at The Wharton School, managing databases, enforcing policy, and coordinating events.
Dominique also worked as a research librarian and community assistant at La Salle University, where she received her bachelor's degree in both Sociology and Criminal Justice.