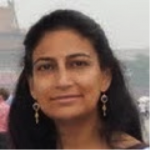 Jasbeena is a co-founder of the Emerging Markets Investors Alliance (EMIA) and a member of the EMIA Board of Directors.
Jasbeena has been in the investment industry in the analysis of international capital markets and securities for over two decades. She is principal and general partner of Syena Capital Management, based in Greenwich, Connecticut, and manages a thematic-based, high-conviction, global emerging markets portfolio through an active, long-term, and fundamental approach to investing in publicly traded equities. In addition, she is the co-founder of Katsura Asset Management, where she co-manages individual investment portfolios.  Prior to forming Syena Capital Management, Jasbeena was a Director at Argonaut Capital Management, responsible for co-managing and directing investment research in a global equities portfolio, in addition to contributing to Argonaut's flagship macro fund.
Prior to joining Argonaut, Jasbeena was a senior analyst in the International Equity group at Evergreen Asset Management, primarily responsible for research in emerging markets. Jasbeena joined Wachovia Asset Management as the co-portfolio manager on the Wachovia Emerging Markets Fund. She remained in that position prior to joining Evergreen Asset Management, after the merger of Wachovia Asset Management and Evergreen Asset Management. Jasbeena started her investment career at Royal Trust Investments in Canada, now part of the Royal Bank of Canada Financial Group where she rose to the position of Research Analyst.
Jasbeena was raised in Singapore. She earned a B.A. degree in Economics from York University in Toronto and an M.B.A. in Finance
from New York University's Stern School of Business. She also holds a Chartered Financial Analyst (CFA) designation. In addition to EMIA's board, Jasbeena is on the board of Streets International, a non-profit organization based in New York that trains vulnerable, orphaned and other disadvantaged young people in Southeast Asia for careers in hospitality. She is also a board member of the India Cultural Center in Greenwich, a non-profit organization whose mission is to promote Indian culture and arts in the Lower Fairfield and Westchester region. In addition, she is a past board member of the YWCA in Greenwich, Connecticut.