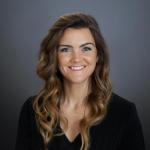 Ms Kathlyn Collins is an ESG Analyst at Matthews Asia. Prior to joining the firm in 2018, Kathlyn was an ESG & Global Strategy Analyst with Cartica Management, where she developed ESG integration and analyzed investments for portfolios, conducted company research and engagement, and wrote reports relating to emerging markets.
She has been part of the faculty for the International Corporate Governance Network's (ICGN) ESG integration course and is a Sustainability Accounting Standards Board (SASB) Fundamentals of Sustainability Accounting (FSA) credential holder. She is a Chartered Alternative Investment Analyst (CAIA).
She holds an MA in International Relations and International Economics from John Hopkins University School of Advanced International Studies in Washington DC, and an MA in Italian Studies from Middlebury College in Florence, Italy. She has a BA in Broadcast Journalism, Italian Language, Literature and Culture from Syracuse University, New York. She speaks Italian and Spanish.