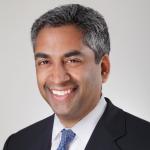 Mr. Mediratta joined Greylock Capital Management in June 2008, following the acquisition of Bear, Stearns & Co. Inc by JPMorgan Chase, became a Partner in August 2009 and President in October 2012.  He was previously the Global Head of Bear Stearns' International Debt Capital Markets Group.  His group was responsible for the capital market financing transactions for sovereign, quasi-sovereign and corporate clients of Bear Stearns in Latin America, Asia and the Middle East. From 2000 - 2008, his group underwrote in excess of $30 billion of securities in more than fifteen countries worldwide, and acted as a financial advisor on a number of corporate and sovereign debt restructurings.
He joined Bear Stearns in October 1997 from Credit Lyonnais Securities (USA) Inc., where he headed the fixed-income Structured Products Group for emerging markets in New York.  Before joining Credit Lyonnais Securities in late 1995, Mr. Mediratta spent three years at The Weston Group, a New York based investment banking boutique, specializing in the origination and structuring of private placement issues out of Latin America.  Prior to Weston, which he joined after graduating from the Columbia University Graduate School of Business, he worked in the International Division of the Export-Import Bank of the United States in Washington D.C.  Mr. Mediratta serves on the board of directors of Unit Trust Corporation, a U.S. registered investment company.
Mr. Mediratta received his MBA in Finance and International Business from Columbia University Graduate School of Business in 1992 and a BA in Economics from Williams College in 1987.  He received his CFA charterholder designation in 1995.  He is fluent in Spanish and conversant in Portuguese
With a track record that spans more than twenty years, Greylock Capital Management, LLC is a leader in emerging market distressed, event‐driven, and high yield investing in sovereign and corporate situations.  Greylock Capital and its principals have actively participated in more than 50 successful creditor committee workouts and liability management transactions in more than 30 countries worldwide.