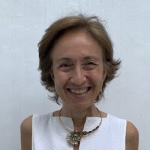 As captain of the Debt and Fiscal Governance Program (DFG), Alessandra Labombarda leads the BBVA's partnership with the Emerging Markets Investors Alliance (EMIA). She will work alongside DFG leadership to increase transparency in Sovereign Debt and Fiscal Accounts in debt issuing countries in emerging markets. 
Alessandra is the Managing Director and Head of Emerging Markets Sales at BBVA in London, a position she has held for the past 9 years, during which she was instrumental in creating a name for BBVA as a leading bank  for Latin American transactions.  
Alessandra has been working in Finance for almost 30 years. Prior to joining BBVA, she spent 3 years at UniCredit building their presence in CEEMEA, 9 years at Salomon/Citigroup selling G10 Rates to institutional investors and 5 years at Lehman Brothers trading interest rates options. She holds an honours degree in Economics from Bocconi University in Milan.
Alessandra is passionate about ESG investing and believes change can be achieved by channeling assets into sustainable investments and raising ESG standards.