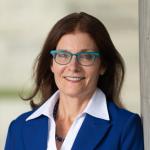 An award-winning sustainable finance practitioner, Alison developed and led a world-class Responsible Investment (RI) program at AIMCo for over a decade. She built a high-performance team focused on ESG integration and stewardship across asset classes and oversaw all RI reporting. During her tenure, AIMCo was consistently recognized as a top ESG performer by UNPRI, New Americas, ICGN & GRESB. 
Alison is co-founder of GRESB infrastructure (2015), the world's first sustainability benchmarking tool for infrastructure, chaired its advisory board, and served on the GRESB Foundation Board. She advised on a Green Financing Framework to support AIMCo's first $500M green bond issuance. 
Alison is co-founder of Climate Engagement Canada (2022), Net Impact Edmonton (2011), and of a local International Women's Day event and C-suite roundtable (2019).  Alison now works as a sustainability consultant.
She is an author/co-author of: The New Frontiers of Sovereign Investment (2017), ICGN's Guidance on Fiduciary Duty (2018), and other publications. 
Alison is an instructor for the Canada Climate Law Initiative and the G7 ILN Sustainable Infrastructure Fellowship Program. She was awarded Canada's Clean50 award (2021, 2020), & the University of Alberta alumni award (2022) for her contributions to the field of RI.