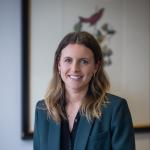 Anna is a fixed income ESG research analyst focusing on the consumer and financial sectors. She is responsible for ESG research and integration across Brown Advisory's institutional fixed income strategies. This includes sector and thematic ESG research on a range of sub-asset classes and issuers as well as labelled bond and sustainability-linked structures assessments.
Prior to joining Brown in 2021, Anna was a Senior Consultant at Aon where she spent over four years in its investment consulting business as global lead for Fixed Income ESG fund research. She recommended sustainable strategies, such as impact funds (public and private), climate focused and green bond funds, sustainable credit strategies and ESG ABS funds, to clients across UK, Europe and US geographies.
Before that she worked in client relations at a boutique asset manager using behavioural finance insights to frame its investment philosophy. Anna started her career working for a social enterprise seeking to address socioeconomic inequality in the UK through education.
Anna is a holder of CFA UK's ESG Certificate and has passed CFA Level 1. Anna holds a degree in Ancient History from the University of Bristol, England.