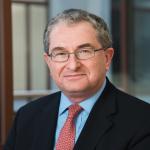 Dr. Arturo Porzecanski is a Senior Advisor at the Emerging Markets Investors Alliance. Arturo is an expert in international finance, emerging markets, and Latin America, and currently holds appointments as Global Fellow at The Wilson Center and as Research Fellow at American University's Center for Latin American and Latino Studies.  From August 2005 to August 2021, he was a professor of international economics, with the title of Distinguished Economist in Residence, at American University.  He previously taught international finance part-time at Columbia University, New York University, and Williams College.  He holds M.A. and Ph.D. degrees in Economics from the University of Pittsburgh.
Arturo was chief economist for emerging markets at ABN AMRO Bank (2000-2005) and previously chief economist for the Americas at ING Bank (1994-2000); chief emerging-markets economist at Kidder, Peabody & Co. (1992-1993); chief economist at Republic National Bank of New York (1989-1992); senior economist at J.P. Morgan Bank (1977-1989); research economist at the Center for Latin American Monetary Studies in Mexico City (1975-1976); and visiting economist at the International Monetary Fund (1973). 
Arturo also carries out and publishes research in international finance; provides consulting services to legal and financial firms, as well as to U.S. government agencies and multilateral institutions; serves as a Dispute Resolution Arbitrator for the Financial Industry Regulatory Authority (FINRA); and has been a long-time member of the Board of Directors of the Tinker Foundation. In July 2020, the White House appointed Arturo to the President's Advisory Commission on Hispanic Prosperity.