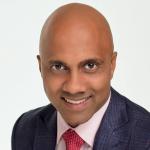 Ashok Parameswaran is the President and Founder of the Emerging Markets Investors Alliance (EMIA) and a member of the EMIA Board of Directors.
EMIA is a New York City based, 501(c)(3) non-profit organization that enables institutional investors to support good governance, promote sustainable development, and improve investment performance in the governments and companies in which they invest.
Ashok has over 20 years of experience relating to emerging markets, mostly as an emerging market sovereign debt analyst. During his career, he has worked at asset managers including Invesco, AIG Investments, and Fidelity Management and Research. Ashok was part of an Invesco team that performed in the top third of Bloomberg-listed emerging market peers for four out of five years.
Ashok also has significant experience in international economics and development. At the US Treasury Department, he advised the US Treasury Secretaries Paul O'Neill and John Snow on economic policy towards South Asia, the Middle East, and East Africa. During this time, he served as Treasury's Coordinator for Afghan Reconstruction. Ashok helped to start the India Program at the Center for Strategic and International Studies (CSIS), where he worked with CSIS Executive Vice President Doug Johnston, US Ambassador to India William Clark, and Congressman Stephen Solarz, former Chair of the House Subcommittee on Asia and Pacific Affairs.
Ashok has served on the Board of the microfinance non-profit United Prosperity and on the Junior Board of Seeds of Peace.
Ashok earned a bachelor's degree from Duke University and a master's degree in public policy from Harvard University's John F. Kennedy School of Government.