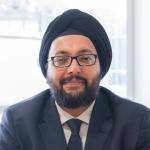 As an Executive Fellow for the Emerging Markets Investors Alliance, Ashwinder Singh Bakhshi is a Regional Advocacy Campaign Director responsible for Central and Eastern European banks.
At Barings, Ashwinder is a member of the fixed income research team and is the global emerging markets sector lead for the financial sector. He is also a member of the Emerging Markets Investment Committee.  In his current role, Ashwinder works with the emerging market debt teams (corporate and sovereign), investment grade debt team, money market team, and counterparty risk team at Barings. Ashwinder is passionate about climate change mitigation and works closely with emerging market issuers to improve their ESG disclosure via collaborative engagement. He contributes research to the Barings Investment Institute, Baring's internal think tank.
Ashwinder has worked in the financial industry since 2004, is a subject matter expert on the financial sector, and has represented Barings at several industry panels. Prior to joining Barings in 2014, he worked as a senior credit analyst in London covering U.S., European and Asian financial sector with Fidelity International & Friends life (now Aviva). Prior to that, Ashwinder worked with S&P in India in its risk advisory unit working for government and corporate clients. Ashwinder holds an M.B.A. from TAPMI in India. He completed the CFA ESG Certification as well a course on Sustainability & Impact Investments from Harvard Extension School.