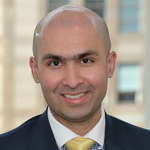 Brishni Mukhopadhyay, CFA is the ESG Product Specialist and Co-Chair of the ESG Strategic
Steering Committee for Western Asset Management, which is a Specialist Investment
Manager of Franklin Resources, Inc, the holding company for Franklin Templeton
Investments and its subsidiaries. His work entails integrating ESG considerations into
investments, client pitches, mandate design and thought leadership. Brishni has previously
worked at J.P. Morgan Asset Management, Lazard Asset Management and J.P. Morgan
Investment Bank respectively.
Brishni currently serves as the Chair of CFA Institute's ESG Advisory Panel, having previously
served as the Vice-Chair of the working group with CFA UK since inception in 2017. Brishni
also serves in CFA UK's Impact Investment and Climate Change Investment working groups
and collaborates with the Impact Investing Institute. In addition he is a tutor at Cambridge
University's Institute for Sustainability Leadership.
Brishni holds a M.S. in Operations Research (Finance) from Columbia University, M.Eng. in
Mechanical Engineering from the University of Sheffield and is a CFA® charterholder.