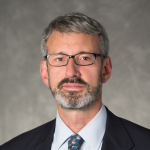 Eric Fine joined Van Eck in 2009. He serves as the Portfolio Manager for Van Eck's Unconstrained Emerging Markets Bond Strategy and oversees the Emerging Markets Fixed Income team. He is responsible for portfolio strategy, credit and market analysis, and security selection. He has been conducting business in emerging markets for over 25 years.
Prior to joining Van Eck, Eric founded and managed Morgan Stanley's Emerging Markets Proprietary Trading group from 2004 to 2008. Eric worked at Morgan Stanley for 14 years, including 6 years as director the firm's Europe/Middle East/Africa (EMEA) research group, and 4 years as director of the Global Emerging Markets Economics and Strategy research group, winning numerous research awards (including from Institutional Investor and Euromoney) and outperforming indices with his model portfolios. While at Morgan Stanley, he advised numerous governments on economic policies and debt profiles and rescheduled sovereign debts in countries such as Turkey and the Dominican Republic. Prior to Morgan Stanley, Eric started and led a telecommunications company in Russia for the Harvard Institute for International Development that built the country's first securities clearing system.
Eric received an MPA in International Trade/Finance from Harvard University's Kennedy School of Government, and a BA in Public Policy from Duke University. He has made numerous media appearances and is a contributing author for Institutional Investor and Barron's.