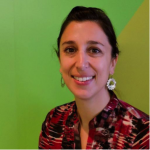 Isabel Munilla is senior policy advisor for Extractive Industries at the humanitarian and relief organization Oxfam America. She leads research and analysis to support Oxfam initiatives on oil, gas and mining transparency with a focus on securities, contract disclosure norms, and implementation of the Extractive Industries Transparency Initiative (EITI), and serves as a member of the USEITI Multi-Stakeholder Group. She engages with governments, multinational companies, development banks, investors and civil society organizations, and her geographic focus includes US, Canada, and EU, as well as South Africa and Cambodia, with a lesser focus on East Africa.
Previously, Isabel was the Director of Publish What You Pay United States (PWYP), a coalition of faith-based, human rights, anti-poverty, anti-corruption, and development organizations that work together to push for transparency in the payments made by the oil, gas, and mining sectors to governments. Isabel led PWYP's advocacy for improved policies within the US government, multinational companies, and international financial institutions, and the EITI. She led PWYP US's 2010 drive to pass Section 1504/Cardin-Lugar provision of the U.S. Dodd-Frank Act, which requires oil, gas, and mining companies registered with the Securities and Exchange Commission (SEC) to publish their payments to governments as part of their annual reports to the Commission.
Prior to joining PWYP, she worked for 9 years at the World Resources Institute conducting research with civil society partners on the social and environmental impacts – and benefits - of natural resource extraction. She was the principal author of "People, Power and Pipelines: Lessons from Peru: in the governance of gas production revenues and co-authored "Breaking Ground: Engaging Communities in Extractives and Infrastructure Projects." She worked with civil society coalitions in the Amazon region, Indonesia, Russia, and Central Africa to examine the governance challenges inherent in extractive industries and the forestry sector, and the associated role of corporations and international financial institutions in influencing national and private systems of risk mitigation and management in these sectors.
She holds degrees in French and Journalism from the University of Maryland, College Park.