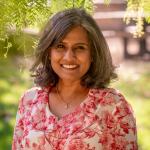 Latha Rao is the Chief Operating Officer of the Emerging Markets Investors Alliance (EMIA). In that role, she is responsible for leading the operations team and scaling EMIA's operations.
Latha has experience guiding strategic vision, implementing an efficient and collaborative organizational structure, and ensuring strategic focus on achieving goals. Prior to joining EMIA, she managed operations for a data startup focused on supporting businesses to quantify its social and environmental impacts. Early in her career, she held clinical and management roles in the healthcare sector.  
Latha has master's degrees in both Public Health and Health Management and Policy from the University of Michigan and an M.B.A. from the University of Houston. She lives in San Diego with her husband and daughter.