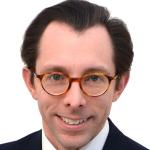 Marshall L. Stocker is a vice president of Eaton Vance Management, director of country research and portfolio manager on Eaton Vance's global income team. He is responsible for buy and sell decisions, portfolio construction, and risk management for equity assets managed by the global income team, including an equity fund investing in emerging and frontier markets. As director of country research, he leads a team focused on analyzing country-level political-economic policies. He joined Eaton Vance in 2013.
Marshall began his career in the investment management industry in 1999. Before joining Eaton Vance, he served as co-founder and managing member of Emergent Property Advisors, LLC. Previously, Marshall was a portfolio manager with Choate Investment Advisors and Sanderson & Stocker.
Marshall earned a B.S. and an MBA from Cornell University, where he was a Park Leadership Fellow, and a Ph.D in economics at Universidad Francisco Marroquin. He is also a CFA chartholder and is conversant in German and Arabic. He is a benefactor of the Cato Institute, Foundation for Economic Education, and the Atlas Network. In 2017, he became a member of the Mont Pelerin Society.
Marshall's commentary has appeared in the New York Times, the Wall Street Journal, Barron's, the Financial Times, the Washington Post, and Bloomberg. He has also been featured on Bloomberg Radio, Fox Business News, and Nikkei CNBC Japan.