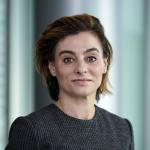 Michela Ferrulli is a Member of the Board of Directors of the Emerging Markets Investors Alliance.
Michela is Partner and Head of Wealth Management at Calibrate Partners. Previously, Michela was Managing Director and Head of Global Emerging Markets (GEM) Sales and Sales/Trading at Citigroup. In this role, she has responsibility for the equity business across Central and Eastern Europe, Middle East, and Africa (CEEMEA). At Citi, Michela served on committees to advance executive and intern recruitment, opportunities for women, and environmental/social/governance (ESG) education and investing.
Prior to Citigroup, Michela was Head of Sales for GEM, Japan, and Eastern Europe, Middle East, and Africa (EMEA) at Bank of America Merrill Lynch. Michela started her career in sales at JP Morgan and at Daiwa Securities.
Michela earned her B.A. from Bocconi University and her M.B.A. degree from Coppead at the University of Rio de Janeiro. Michela is fluent in English, Italian, and Portuguese.