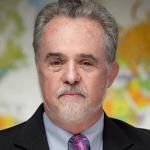 Raymond C. Offenheiser is a member of the Board of Advisors of the Emerging Markets Investors Alliance.
Offenheiser is a widely known nonprofit leader and innovator with a broad range of international development experience in Asia, Africa and Latin America. Offenheiser served as president of Oxfam America for 20 years. Under his leadership, Oxfam grew eightfold and repositioned itself in the United States as an influential voice on international development, human rights and governance, humanitarianism, and foreign assistance.
Prior to joining Oxfam, Offenheiser represented the Ford Foundation in Bangladesh and the Andean and Southern Cone regions of South America. He has directed programs for the Inter-American Foundation in Brazil and Colombia, and he has worked for Save the Children Federation in Mexico. Further, at the 2012 G20 Summit, Offenheiser was appointed by the Obama administration to represent civil society interests on the leadership council of the New Alliance for Food Security and Nutrition in Africa.
Offenheiser has served as honorary president of Wetlands International, and he was a co-founder of the ONE Campaign, the Modernizing Foreign Assistance Network and the Food Policy Action Network. In addition to the Emerging Markets Investors Alliance, he has served on the advisory boards of the World Economic Forum, the Council on Foreign Relations, the Aspen Institute, the World Agricultural Forum, the Gates Foundation, the Clinton Global Initiative, Harvard Business School, the Kennedy School of Government at Harvard, and Cornell University.
Offenheiser is currently the William J. Pulte Director at the Pulte Institute for Global Development and Associate Professor of the Practice at the University of Notre Dame. Offenheiser leads the Pulte Institute for Global Development in its mission to promote human development and dignity among people worldwide. At Notre Dame, Offenheiser is a member of the Keough School's Leadership Council and a long-standing member of the advisory board of the Kellogg Institute for International Studies. He also serves as Distinguished Professor of the Practice at Notre Dame, teaching graduate and undergraduate students in a course on the foundations of sustainable development, and as chair of the board of directors for BRAC USA. BRAC USA is the US-based affiliate of international development organization BRAC, one of the largest nongovernmental organizations in the world. 
Offenheiser earned his B.A. from University of Notre Dame and an M.Sc. in Development Sociology from Cornell University.