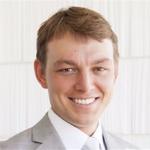 Simon Hall is a Senior Manager of the Tropical Forests and Agriculture Program at the National Wildlife Federation (NWF). He leads NWF's portfolio of work on beef, leather and soy in South America, working directly with companies, NGOs, researchers, and multi-stakeholder partnerships to advance solutions that protect tropical forests and help ensure the long term viability of agricultural production.
Simon currently serves as NWF's representative on the Board of Directors of the Global Roundtable for Sustainable Beef (GRSB), where he also served from 2015-2016. In addition, he co-chairs the committee on deforestation and land-use change within the Textile Exchange's Responsible Leather Round Table (RLRT).
Prior to joining NWF in 2013, Simon worked as a field-based researcher in Brazil. Simon has an MS in Natural Resources from North Carolina State University as well as BAs in Economics and Environmental Studies from Salisbury University.