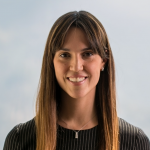 As an Executive Fellow at the Emerging Markets Investors Alliance, Veronica Ayzaguer is a Director of the Extractive Industries Program. 
At Agroempresa Forestal (AF), Veronica serves as Fund Manager, Impact Investing. Previously, she was Head of US Equity Sales at LarrainVial. She has experience in the analysis and valuation of financial and corporate names in Latam, as well as experience in special and distressed situations in the Andean region. She was formerly leader of the first corporate credit team established in LarrainVial's Sell-Side Research Department. Prior to joining LarrainVial, Veronica was a buy-side credit risk analyst with Principal Financial Group Chile. 
Veronica earned a Master's Degree in Finance from Pontificia Universidad Catolica de Chile and a B.Sc. from Universidad Catolica del Uruguay in Management.